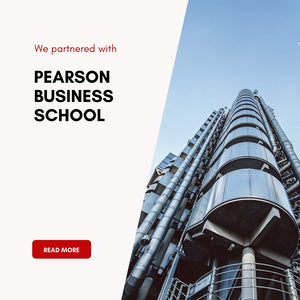 More about our partnership with Pearson College London: Internships
We love making a difference in our communities and with our youth! ❤️
We are pleased to announce that we have partnered up with Pearson College London to continue with the fantastic Internship Programme we have been offering to students within the Business School. 
We started offering this opportunity to Pearson students during the 2020  pandemic lockdown in the UK  and they -and their students- kindly accepted!
Our first intern Sophie, who  shared her thoughts with us in a previous blog post, joined us before our first shipment of Grabby Bags even arrived, so Pearson Students have, quite literally, been with us from the very beginning.
As the entire world adapted to remote and virtual work, the resilience and determination these young students showed us was very impressive. We also realised the commitment from the Interns was genuine, and that they too wanted the best outcome from the experience. 
This Summer '21, Imogen Kemp & Aadam Khan joined the GB team as our two new interns.
Here is a little bit from both about their time so far at GrabbyBag.⁠
⁠
Imogen Kemp
"My time with GrabbyBag has allowed me to build upon and adopt key skills that are a MUST for the world of business. Every day I was met with new tasks both big and small which gave me responsibility, creative freedom, and a chance to really learn about the industry I am so keen to enter. The team were brilliant in welcoming me and communicating the roles and responsibilities of the business. In addition to everything I have gained from this experience so far, I have also been given the opportunity to help a small business and give my opinions, advice and add my own little touch to the brand! This is an experience I have thoroughly enjoyed, and I will continue to utilise everything I have taken from this internship!"⁠
⁠
Aadam Khan
 "I chose to do an internship with Grabby Bag since they are a start-up business. This allowed me to experience all aspects of the⁠ business and learn how to operate in different sectors. During my time with the company, I learnt how to do effective market research to gain a good insight into our target market. Overall, I enjoyed this internship and it taught me useful business skills going forward such⁠ as time management, communication, digital skills, and teamwork. I will use these skills⁠ going forward to help me perform effectively in future employment after university." ⁠
From a businesses point of view, Internships are great because you get to hear and see fresh ways of doing things and the accompanying bags of energy and enthusiasm.
The programme participants have become a part of the family and are interwoven into Grabby Bag's story - and history.
We always encourage interaction with the rest of the team, open communication at all levels and nurture their ability to take initiative.
When we first stumbled across this idea, we were certain it was reserved for big corporates that had fancy break rooms and were giving out free gym memberships! 😉 Now, while we would like all those amenities and perks in the future, we are pleasantly surprised to be a case study of sorts- to prove that it is  actionable and, most importantly, it is mutually beneficial.
So, How-To? 
Approach a university or higher learning institution.
Find out if they have an Internship Scheme- many universities such as Pearson post on their job boards and have a wide talent pool.
Ask about the terms of the scheme: For example, some universities pay out grants to students, some allow students to find own internship and take on unpaid internships as part of their coursework, while others may ask the business to subsidise, so do your research.
Write a clear letter or 'Offer of Internship,' to both student and university, stating duration, internship activities and any relevant company policies. Make sure you are clear about things such as time off, any non-disclosure agreements, media, and photography consent (you will need this if you would like to share team photos for example!)
We usually send out a job description and employee/internship contract to both the student and institution. The educational establishment may already have a template, or you can download/create your own.
Be Flexible! The students will have assignments and exams, so do your utmost to support them; always make a backup plan for the busy exam season!
Onboard your new team member!
We cannot recommend Internship Participation enough, particularly if you are a small business. This brings in extra talent that SME's desperately need, while benefiting a student with a chance to gain real-life experience. Programme participants get to see the underbelly of the beast that is running a small business and can gain tremendous insight into what goes on behind the scenes!
Thank you to all the Interns who have been a part of our programme so far, you are all stars in our eyes and we wish you all the best in your future careers. We would also like to thank the team at Pearson College London, without whom none of this would be possible. We look forward to welcoming more inspiring students in future.
With love,
The GrabbyBag Team
---