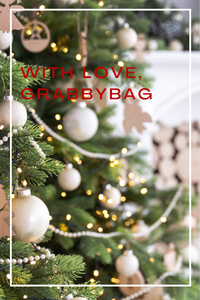 Coffee Break Chats with our CEO- Wishing All Our Friends A Happy Holiday
Dear Friends,
As a tumultuous year ends, we at GrabbyBag wish to say a big 'thank you' to all those who kept us going through these tough and perilous times in our very first year in business.
As a small start-up, one is usually faced with many difficult situations and painful lessons before the success - which is usually forgotten as soon as the next set of new challenges appear! This is standard in business, and somewhat expected. Usually, the previous experience and some smart risk management and planning can help, and one eventually starts to navigate a smoother course.
However, this has not been the case in 2020.  The human cost of this pandemic has left us all, collectively, reeling. The financial implications and burden of job losses and redundancies, and the ever-present fear of the pandemic's reach, isolation and mass confusion, have made this one of the most difficult periods in our living memory.
So, from myself and the team at GrabbyBag, we would like to applaud and commend every single person who has played a role in keeping the country going; the small business owners that wake up to an uncertain future and still create amazing work; the NHS and all the medical professionals who put their own safety at risk daily, the family and friends who have supported us and each other during these darkest of days. Clients who have given us their custom and believed in us and supported us and many other small businesses. Collaborations with other small business that have formed special and meaningful relationships. The human spirit has prevailed, and we have seen it in action. 
Without you, there would be no us.
We would like to say a special thank you to the following organisations, businesses and people:
Sam @ Boast International Shipping
Emma @ DHL
Amy @ Pearson College
Howard Jeffery, MBE and The Pepperpot Centre
NHS Homerton 
Shooting Star Children's Hospices
Prissy the PIG charity
The Passage
Amida & Lee at E-insure
Conde Nast Traveller Magazine
Abode Magazine
The Times and Hurst Media
Garry Waters, In Touch Rugby
Gramersi 
Paul Wright, I Like Birthday Cake Photography
Bridal Box
Cups of Candles
Elegant Lou
Kira The Bold
Zoliesthetik
Jenna , Isobel Celine, LuxeOnABudget, Sole2Sole Podiatry, HawaBeauty, Biyla_UK, Wanderlust Travel, LadyB, TheClinicDiaries, NatashaM.
Sophie S (our first ever Intern!) 
Debbie E (our first ever employee!)
Ariana and Valee Music (our first ever models!)
SustainAfrica Team who help us make the planet better ;)
and to our family and friends who have actually bought some of our products, and many more special people who have made this an unforgettable first year, thank you!!
We wish you a very happy, safe and sound holiday season and a Happy New Year!
Best Wishes,
Naledi and the Grabby Bag Team
---