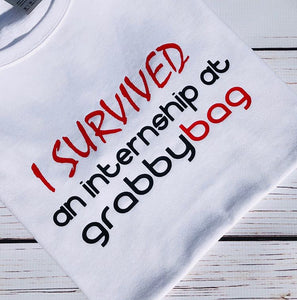 Coffee Break Chats with the CEO- Internships- Do they Make or Break you?
Hello Grabby Bag Family,
In today's blog post, we talk to Sophie S, the first intern at Grabby Bag who paved the way for future internship programme participants for GrabbyBag. Hear her tell us about her experience.
Expectations of working with a start-up vs the reality 
Undoubtedly I expected passion when working within a start-up & this was extremely prevalent in Naledi's daily dedication to the business. In our small team there was limitless energy everyday to get the business moving forward in some way. Although as an intern you have a defined job role, you end up 'mucking in' and getting involved with lots of different aspects of the organisation and elements not typically included in your job description. 
Also working first hand with the founder of Grabby Bag has taught me a lot!
You are ultimately learning from an expert and someone who is coming from a different, more established career background; this helps to gain a different perspective. 
From a day-to-day standpoint there can be a lot of change and constant flux within a start-up; everything is new and processes are being put into place constantly-but this is one of the reasons why it is so great to work within one as it is an opportunity to gain so much experience. 
Altogether, working within a start-up has been a unique experience and every day of work differs- although this can be challenging at times, it keeps you on your toes and makes sure things remain exciting!
Working with a fempreneur - how did you feel it impacted the working style, communication, flexibility?
Working with a fempreneur is inspiring. Not only do you feel constantly supported, you feel understood and appreciated too. I felt able to voice my opinion and receive honest feedback.  Overall, the work culture was very team-oriented leading to lots of collaboration in our small team. It was very uplifting to work with other powerful women, from the CEO to the staff, who all shared a similar enthusiasm for business and carried an entrepreneurial spirit. 
One aspect that I was very grateful for was the ability to have casual communication throughout the working day, rather than being formal across emails the entire time. Naledi was also very accommodating to any flexibility I needed when working, 
Any lessons learnt & transferable skills?
Overall, my internship experience with Grabby Bag was extremely insightful as it gave me the opportunity to delve into the more corporate side of business rather than the academic side which I gain from my degree. Not only did it refresh my communication/administration and time management skills, I also developed new skills from my participation in projects such as designing the new packaging of the subscription boxes. 
In addition to the above, partaking in various Zoom meetings with an array of Grabby Bag's business connections (including strategic marketers) has enabled me to grow my confidence and ability to network with new people - a key skill in business!
Tips & pointers for another intern 
My top 3 tips for another intern would be: 
Be organised!  Create a to-do list at the start of every working day & label each task based upon priority (e.g. low, medium, high) then work through the list accordingly 
Be prepared!  When working within a start-up, sometimes things pop up and you may have to change what you were currently working on to deal with something more urgent. Be flexible and 
Ask questions! This will help you find a quicker solution to an issue & also enable you to learn more. 
Highlights of your time and (perhaps!) lowlights?

One of my highlights of interning at Grabby Bag has been helping to plan for the future of the company in terms of sustainability and becoming more socially responsible as an organisation. Naledi, the founder of Grabby Bag, has just set up the country branch of SustainAfrica (Lesotho) which is an initiative partnering with Green Botswana and various countries committed to climate change work.
What impact do you think setting up a Start-Up during a pandemic has? How do you think the company manages that, if there was any impact at all? For example, working virtually instead of in an office?
Running any form of business during a pandemic is a particular challenge, however setting up a start-up bestows an increasingly demanding challenge. From an inability to get through to suppliers to place orders to lack of contact time in a real life office. 
An issue I found testing at times was the 'working from home' element. At times, the home environment can become distracting and it can become difficult to focus on tasks. I also found that virtual communication can sometimes become complex compared to an 'In Real Life' situation where something can be explained quickly face to face. 
The most important thing in my opinion is to stay resilient! 
-Sophie, Grabby Bag Intern
So there we have it folks, stay inspired, stay resilient and  trust that an internship won't break you! It is not just endless photocopier jobs and coffee runs-it will open your mind and heart to so much more! 
---