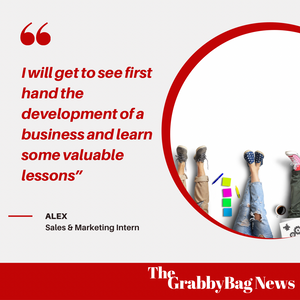 Coffee Break Chats with our CEO-Internship Programme- What Gives?
Dear Friends,
By now, you have probably read all the reports, heard all the statistics, and discussed the state of the economy to its bitter finale- that very few businesses or livelihoods remained unaffected by the global pandemic. What you might not have heard, is how very many businesses in the U.K. started up during the pandemic. As counter intuitive as that may seem, the combination of redundancies, lockdowns and good old-fashioned community 'can-do' attitude helped, in part, to spur on this trend.
However, in many cases, this soon led to what many started off doing as a hobby or to make an extra income in uncertain circumstances, the inspiration for a bonafide business based on a newly found passion and income source. 
You may wonder why I am discussing start-ups and small business in an article about Internships. The reason is simple. Many small business owners believe they must have huge budgets, unlimited access to resources and staff to grow and scale their business.
While there are many affordable and accessible resources available, I recommend that one must actively search for these, and connect with others who are doing the same. As gratifying as it may sound to say, "I bootstrapped my way to success, alone, while living off coffee and multiple late nights," if there is a way to get that much-needed support in your business, and ultimately, in your life, do yourself and your business a favour and check it out.
During the quest to find more resourceful ways to keep a brand-new business alive, we discovered that we could run an Internship Scheme, despite being a small business. I always assumed they were the reserve of giant corporates who could offer free doughnuts all day and a jacuzzi day once a month. (We are still working on that!) However, much to my surprise, I came across a college that was happy to place Student Interns with us, for a real 'hands-on' experience, without judging us for our size (yes, that is a thing!)  The Internship Programme Manager was a delight to work with and went above and beyond to recruit the right candidates for us.
The first intern we ever had was a real joy, enthusiastic and willing to roll with the punches- and trust us, there were a few to be taken in the first few months of our Start-Up… in a pandemic…working remotely! This intern has since gone on to set up her own businesses and is, and always will be, a wonderful part of our founding story.
The amazing experience an intern will have within a start-up or small business, will help to equip them with grit, resilience, humour, and actual business insider knowledge. We believe an Internship Programme can be tailored to suit your business, precisely why we insist on access to training and certifications, events and conferences (virtual at present!) and seminars and/or workshops with business colleagues and consultants. We want our interns to leave with more than just awesome memories! 
The daily, sometimes hourly, flux, and the hands-on work that goes into building a company is not for the faint of heart, however, neither are the people we select to join our Internship Programme.
From a business' perspective, the vigour and desire to make a meaningful contribution to your business, fresh insight, and that hunger to make a difference to the world, can only make having Student Interns a real attribute, and a major benefit to any business. Yes, each one, teach one. And in this case, it goes both ways.
We interviewed our two new interns, and this is what they had to say, below:
Hi Alex, can you tell us a little bit more about yourself?
Hey, my name is Alex, and I am one of the newest members of the GrabbyBag team! I am from London and currently study Business Management with Marketing. I have an interest in branding and marketing and being in my final year of study I wanted to carry out an internship to generate some experience to assist my dissertation, while strengthening my CV.
One of the main reasons I chose GrabbyBag for my internship is that they are a small start-up. By working in a fast-paced and ever-changing environment I hope to gain a unique insight into the industry, while having a more flexible set of roles to keep me engaged. Also, being a start-up, I will get to see first-hand the development of a business and learn some valuable lessons in business management.
 During my Internship I am hoping to make a strong contribution to both the sales and marketing department – whether it be through landing new clients or running a successful social media ad campaign. Through all the projects I work on for GrabbyBag I hope I will learn from them and use the lessons to assist my future career.
In the future I am hoping to complete University with a minimum 2:1 and move onto a position in brand development or brand consultancy preferably in a fashion or luxury related company.
Alex, Sales and Marketing Intern
Hi, Leam, can you tell us a little bit more about yourself?
Hi! I'm Leam, and I have recently joined Grabby Bag as a Marketing & Sales Intern. I am currently undergoing my second year as a Business Management student.
One of the most important goals I set for myself when I started uni, was to take the opportunities that were presented to me, such as Internships. To me, this is extremely beneficial to strengthen my CV and prepare me for life after university.
Why choose Grabby Bag?
The reason I chose to join Grabby Bag was the fact that I would be working side by side with the Founder of the business. I would be able to share the vision of Grabby Bag and get a taste of all the different activities that occur within a business start-up during its growth and development.
What do you expect to learn or achieve?
Throughout the length of the 6-month Internship Programme, I expect to aid Grabby Bag in strengthening its sales by setting up relevant sales and marketing campaigns to reach our target audience with a product suited for their needs.
Where do you see yourself in the future?
In the future, I would like to start my career working in marketing agencies. While working in a marketing agency, I would be presented with different marketing aspirations from clients, allowing me to develop and execute different strategies suited for each client. This decision was influenced by my time in work experience at the marketing firm Brand & Deliver.
Leam, Sales and Marketing Intern
---
1 comment