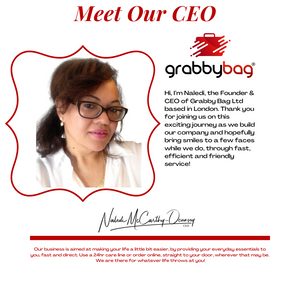 Coffee Break Chats with our CEO-Behind The Brand

This week, I'd like to introduce the story behind the brand, and the people behind the story.
As a full-time mother of two, business-woman and full-time carer, the last thing I thought I would be doing is setting up a business during a pandemic with a new baby and an almost pre-teen daughter who is living with severe disabilities. But life has a funny way of positioning you where you need to be, when you need to be there. And that is with you, our customer.
So how did this all start, you may be wondering? 
We were living the typical young person's dream, building careers and planning a future. Then our daughter was born, with what was thought to be infantile epilepsy and was supposed to be a common and fleeting experience. Let's just say, we spent the next 4-5 years exclusively battling to keep her alive, against all odds. I gave up jobs, we moved to a wheelchair-friendly house and gave up on our own dream home. We made other countless sacrifices, as most parents would, and reimagined our lives in this 'new normal.' Ultimately, it was all about the child. 
We heard all sorts of things from doctors and other professionals, such as choosing to let her live or not; such as accepting she'd always have fits or be totally incapacitated due to medications, we had to choose one! One doctor even went as far as telling us she wouldn't make it past 5years old, and we should get prepared by spending all our time with her.  We heard it all, except what her underlying condition was- as they simply did not know, despite rigorous testing. 
Now one of the smallest inconveniences of being hospital bound, and always having to pack in an emergency, is that you either always forget your essential toiletries or they're the size of a house! So you end up using hand cream on your face and hand wipes as a washcloth! Or don't have a comb. Your lips dehydrate due to air conditioning in wards. You look a mess! And feel worse than that! It's literally the last thing you remember in an emergency, and yet it's the first thing you need when things finally settle down. You consider many things while on those wards. Well, perhaps a friend could drop one off? Or I could pick up a 1litre of expensive corner shop bits to get me through it... So simple. So easy... but wait, it's midnight? I'm alone? Tending to the ill person?  It's just not available! Expensive! Cumbersome. Inaccessible. Why isn't there something I can just Grab. And Go. 
And that, dear reader, is how the idea of a toiletry delivery service called GrabbyBag®️was born. 
Our daughter remained undiagnosed until this very year of 2020. The same year of a pandemic, where many families globally were in similarly heart-wrenching situations like those that we had faced so many times- in hospitals, not knowing how things would turn out. The same year she celebrated her tenth birthday, with a  now-one-year old toddler sister beside her.

The  same year the company that was birthed and  created out of those darkest times was finally launched, in honour of her, of all those who never give up, of all those who go through tremendous hardships and keep going, in honour of those families we personally know who have had to deal with loss.
It would be remiss of me not to mention the hard work, dedication and care we received over the years from healthcare professionals both within & outside of the NHS. We also relied heavily on a special charity called Shooting Star Chase, a Children's Hospice and Registered Charity that our daughter used to visit. This was the only place I could have a full and uninterrupted night of sleep! They are now our Corporate Partner and we are honoured to announce that 25p of each kit will be donated to them for the tireless and amazing work they do.
We hope our story resonates within our core ethos and building blocks of our brand- that of turning adversity into service. We continue to strive to be dependable, efficient and helpful to our customers. And while  we can't solve every single thing (no, we can't do a Rubik's Cube!)  we can certainly be there when you need us. 

ABOUT THE FOUNDER
After pursuing a degree in Business Management, at 22 I was working in an exciting role in Sales & Marketing for a Thames Cruise Company. We worked hard and played harder- one of the most memorable nights being one where a particularly joyful Rugby Team got "lost" at the wrong pier near Waterloo on the wrong night,  and we had to send out an emergency boat in the dark, equipped with a backup staff singer in half a costume! 
I enjoyed Marketing and Communications and found myself within the Education Sector,  as editorial assistant  at Ofsted, a governmental body in England. Highlights there included editing Ofsted News online and working nights to get our stakeholder newspaper approved by the powers that be and out to our 40,000 readers. No pressure there!
I then worked at the Training & Development Agency (TDA) in Victoria, London until they relocated to Manchester. This was at the point we had decided to start our family and  a move to Manchester was not on the cards for us. 

EDUCATIONAL & PROFESSIONAL PURSUITS
BBA Business Administration
Post Graduate Certificate in Marketing (PGCert Marketing)

MSc in International Business & Project Management
Member of the Board of Governors at a Special Needs Educational School (2017-2018)
Current Creative Director & Founder for a Events Management & Production House, London, UK

I am also committed to climate change and sustainability through my businesses and joint partnerships, one of which is through founding a collaborative partnership with Green Botswana, a Sub-Saharan Africa initiative, through our Sustain Africa(Lesotho) committee; dedicated to help bring further climate change action and solutions to the region.

MY MANTRA
"Remember, while you're busy being brave, be kind."
"Stick with it! You never know who you may inspire to keep going"
---
2 comments